Posted by pixie on August 31st, 2007
Posted by pixie on August 30th, 2007
What's better than watching Roxy Deville fuck her boyfriend on the kitchen island, thrown on top of the knives and chopped up vegetables? Watching Victoria Sin fuck hers right next to them … and then swap! This is swinger style at its best … only on the Flipside.
Posted by pixie on August 30th, 2007

This set is both fun, and sexy! The best of each. Some plumbers crack and the right tools make for an interesting shoot. I love the hat and the belt. I think I look cute in them. You be the judge. If you need some sexy work done, and want it done right? Call on Liz! 😉
Posted by pixie on August 27th, 2007
Pinky Lee usually ignores her boss's son because she thinks he doesn't like her, but really the opposite is true. He does like her … a lot. So when she opens up about boy troubles, he gives her a hard time about it. A really hard time.
Posted by pixie on August 26th, 2007

Boredom can do odd things to people. In my case, I get naked and filmed! LOL! I enjoy some of the light play in the pictures. It seemed to capture the mood of the day. The harsh shadows were an extension of my emotions for that day. Enjoy!S
Posted by pixie on August 25th, 2007

It was a Mid summer's day when an erge came over me. Enthralled by the erge, my thoughts went wild trying to imagine beinf fingered. OMG! I wanted to have fingers dipped into me and unlock an orgasm! As soon as I found a man for the job, he layed me down for my bang! It was amazing, and I can't wait for you to wittness it too!
Posted by pixie on August 23rd, 2007
Punk rock girlfriend Dirty Jane bending over to give upskirt shots of her muff.
Posted by pixie on August 22nd, 2007
I don't think there's a pair of breasts on the planet I'd rather look at than gorgeous Nikki Vega's. Luckily, they're very much on display in this delicious RubberDollies set, as are her shapely legs, wonderful tats, and the rest of her lovable body. The style is vintage American pinup, with a fetishy military uniform in shiny slick latex.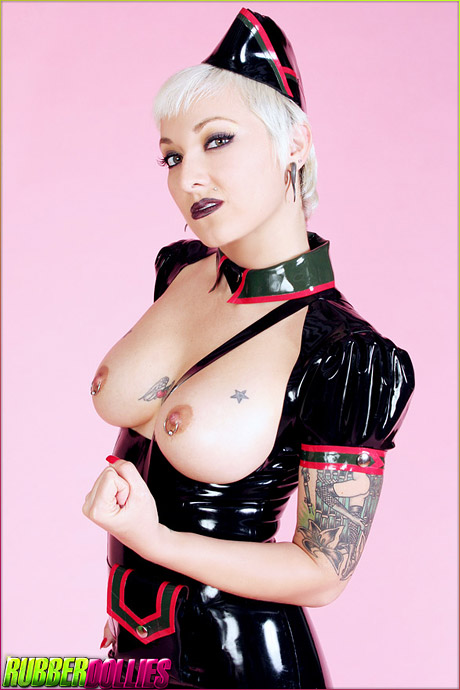 Posted by pixie on August 20th, 2007
Xochitl is a hot black-haired punk chick with an exotic face and gorgeous mermaid tattoos. Here, she dons a Pac Man shirt, camouflage pants and a pair of checkerboard Vans — and then loses all but the shoes, smiling in front of a wall of punk flyers. Gorgeous. Check out all the hot girls on BarelyEvil!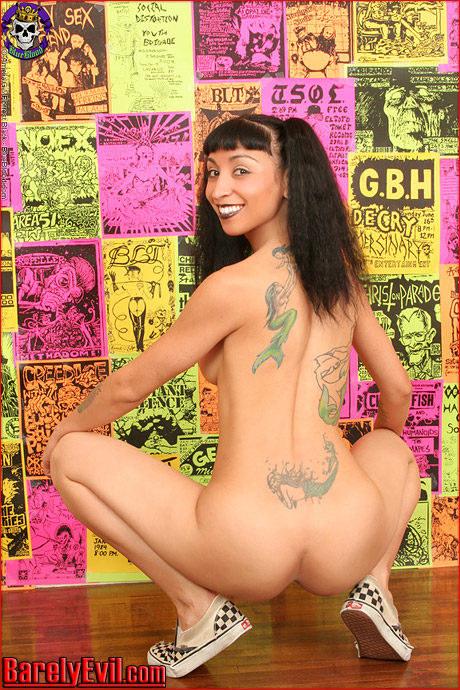 Posted by pixie on August 19th, 2007

You caught me. I am a goofy silly, silly person. One camera and my friends equeals alot of fun and silliness! This is me naturally in my enviorment. I suppose you could say this is whom I am inside. Beyond the stardom and the cameras! I loved this shoot. It began as a normal shoot, but then I slipped out and goofed it all up. Hopefully you'll enjoy the goofy me. lol.